Regular price
$299.99 USD
Regular price
Sale price
$299.99 USD
Unit price
per
Sale
Sold out
Share
View full details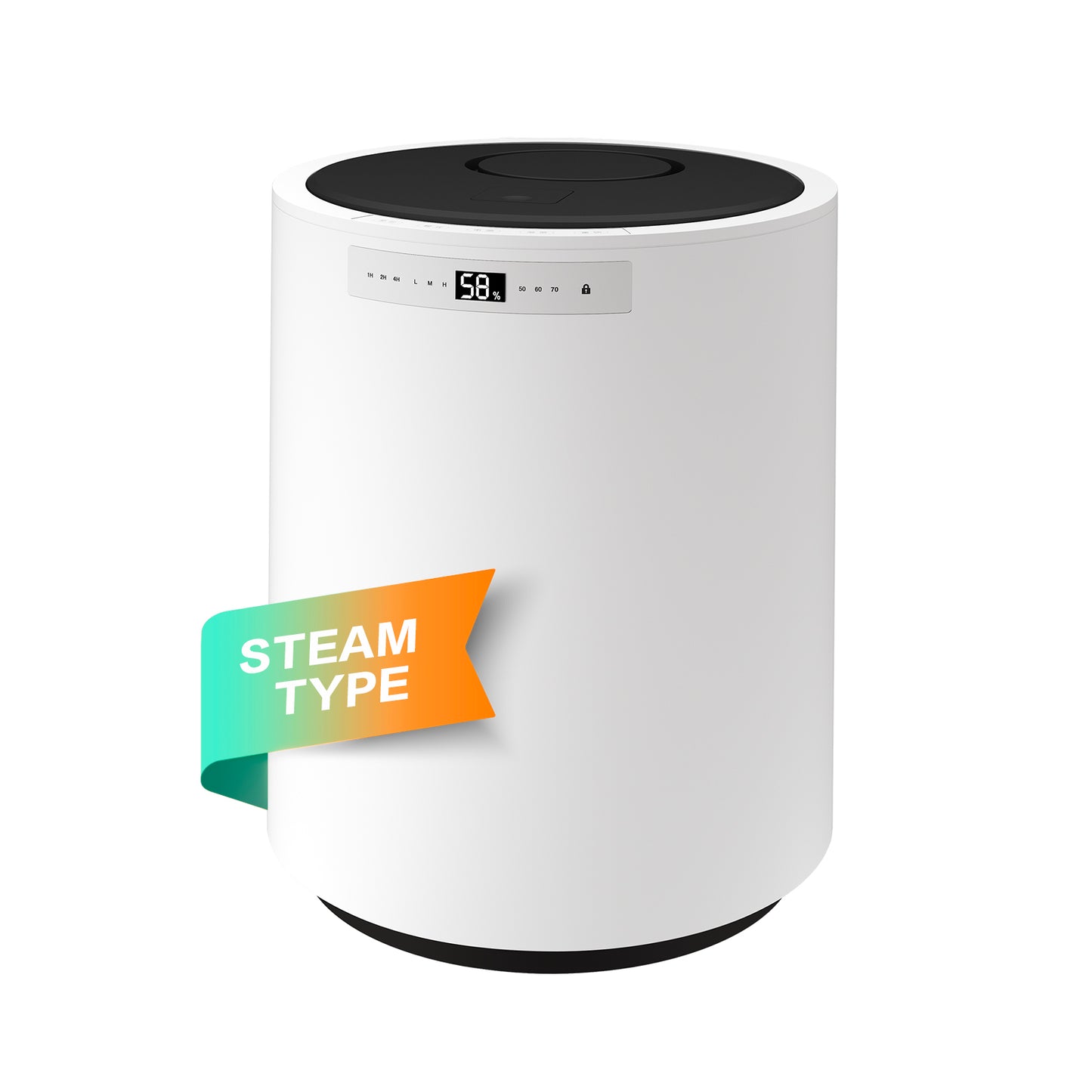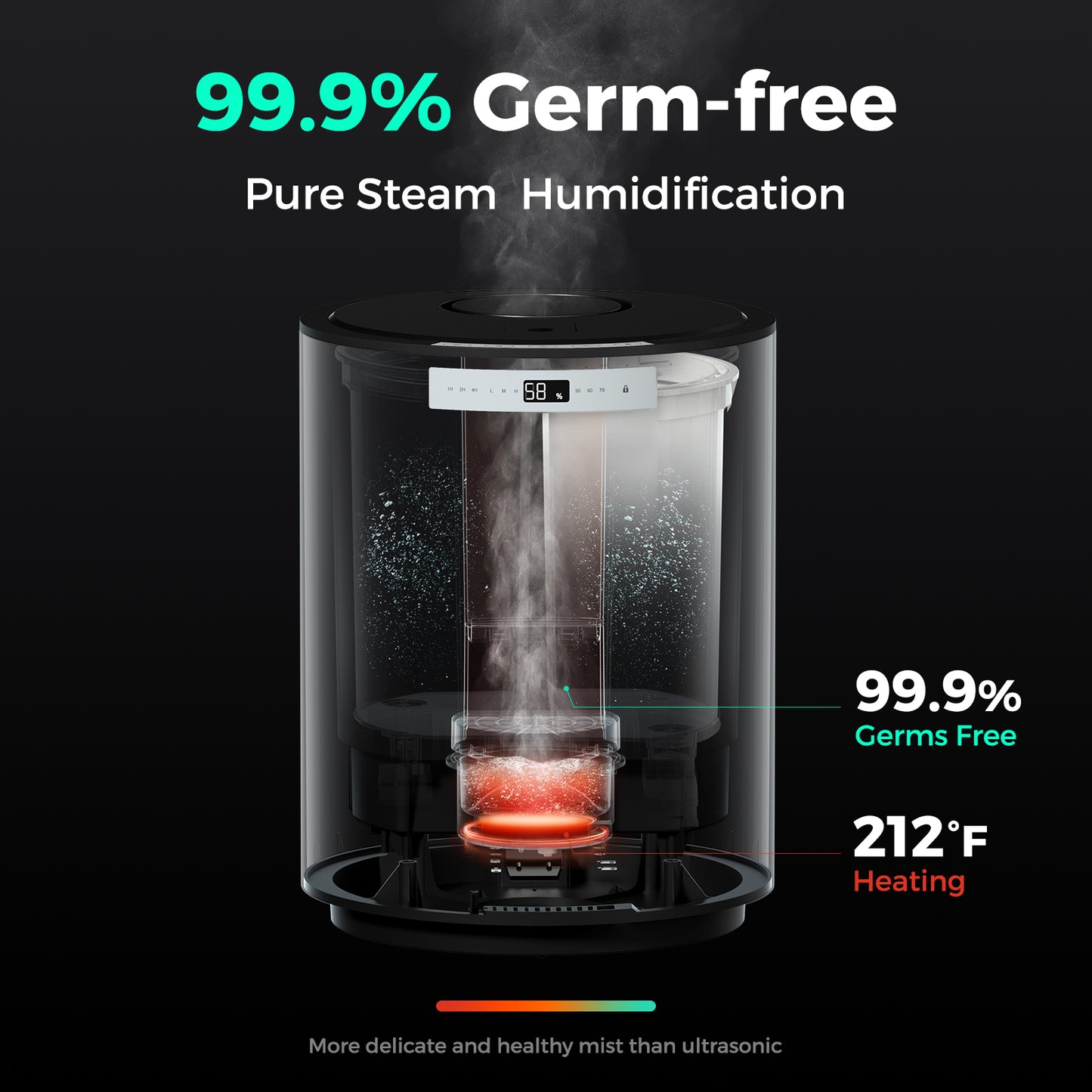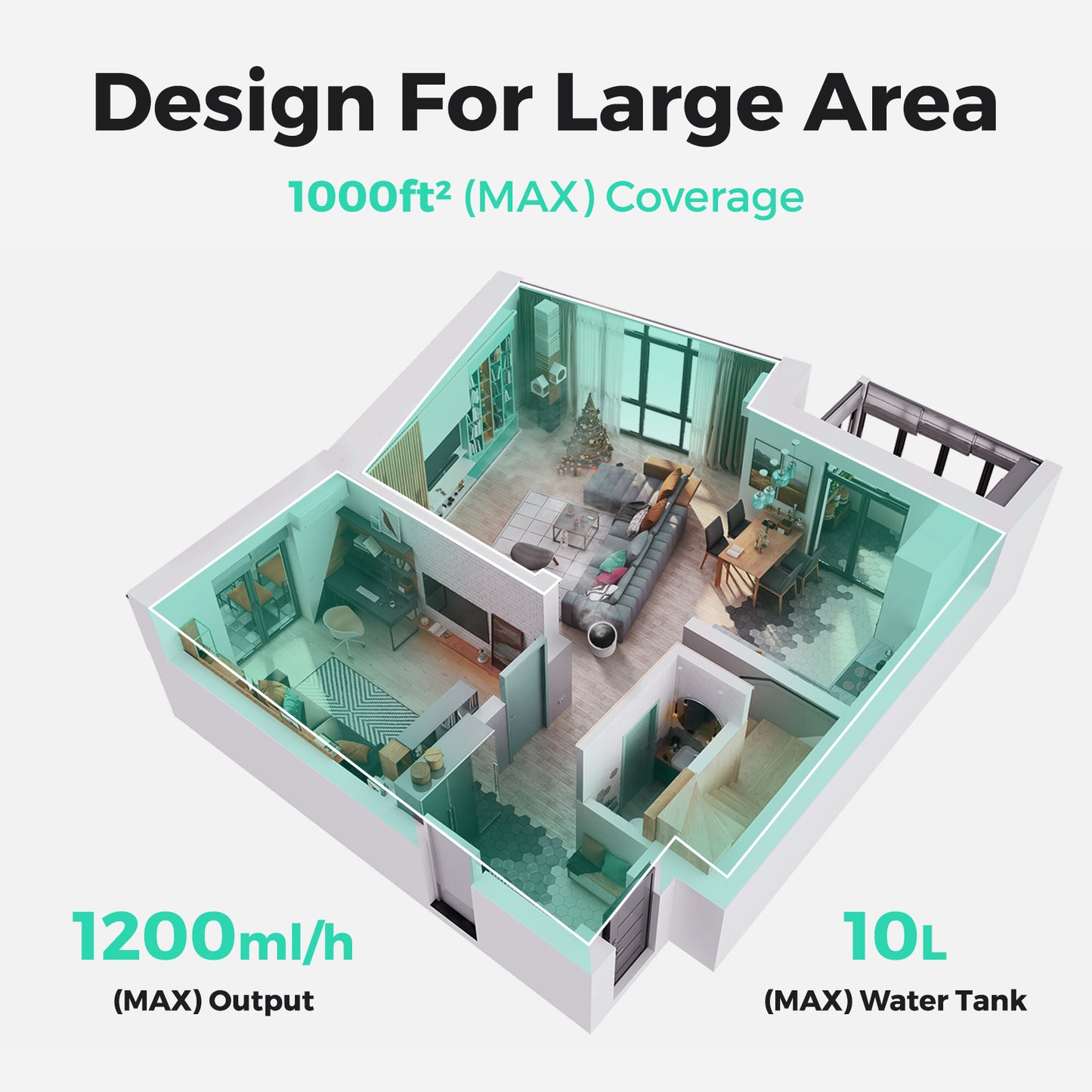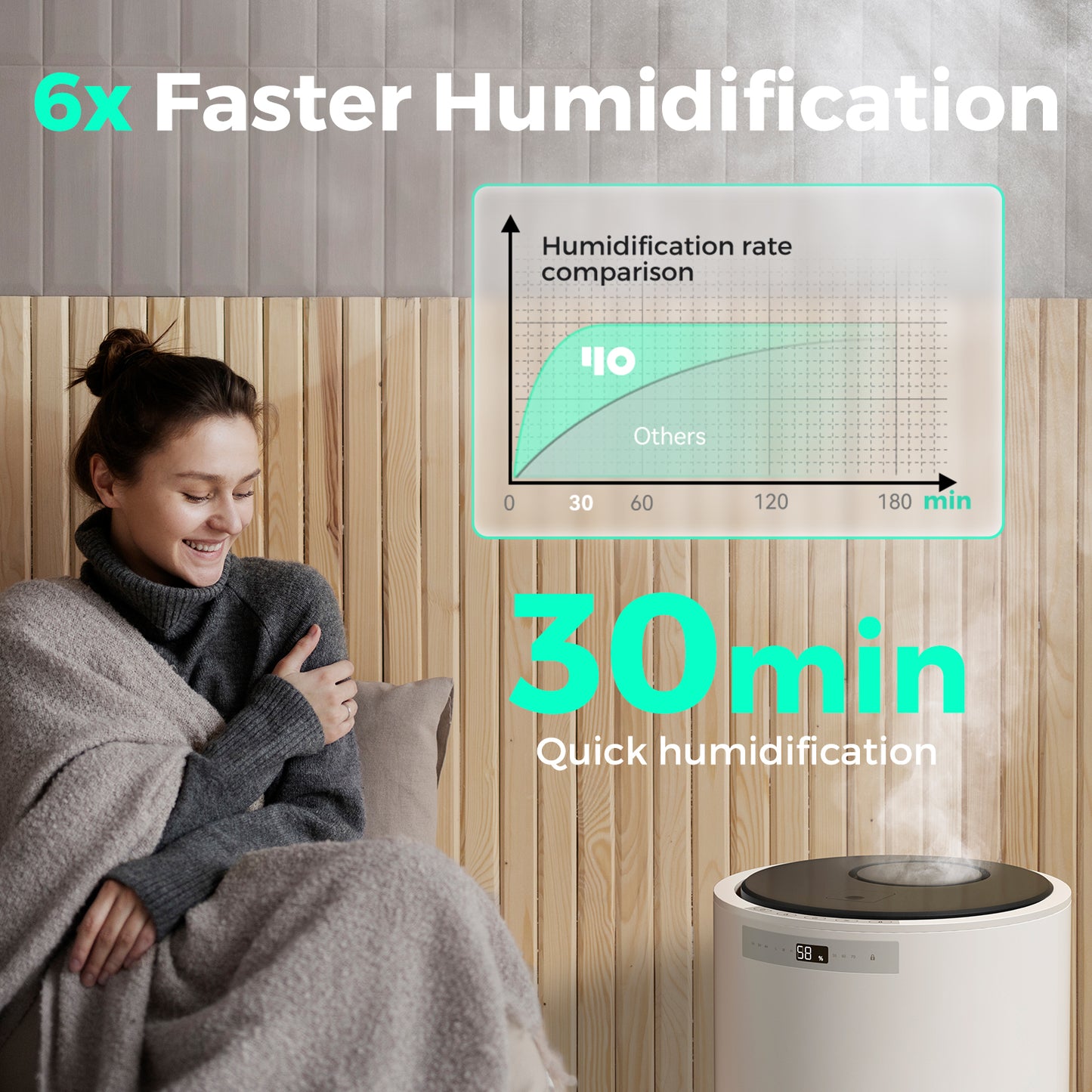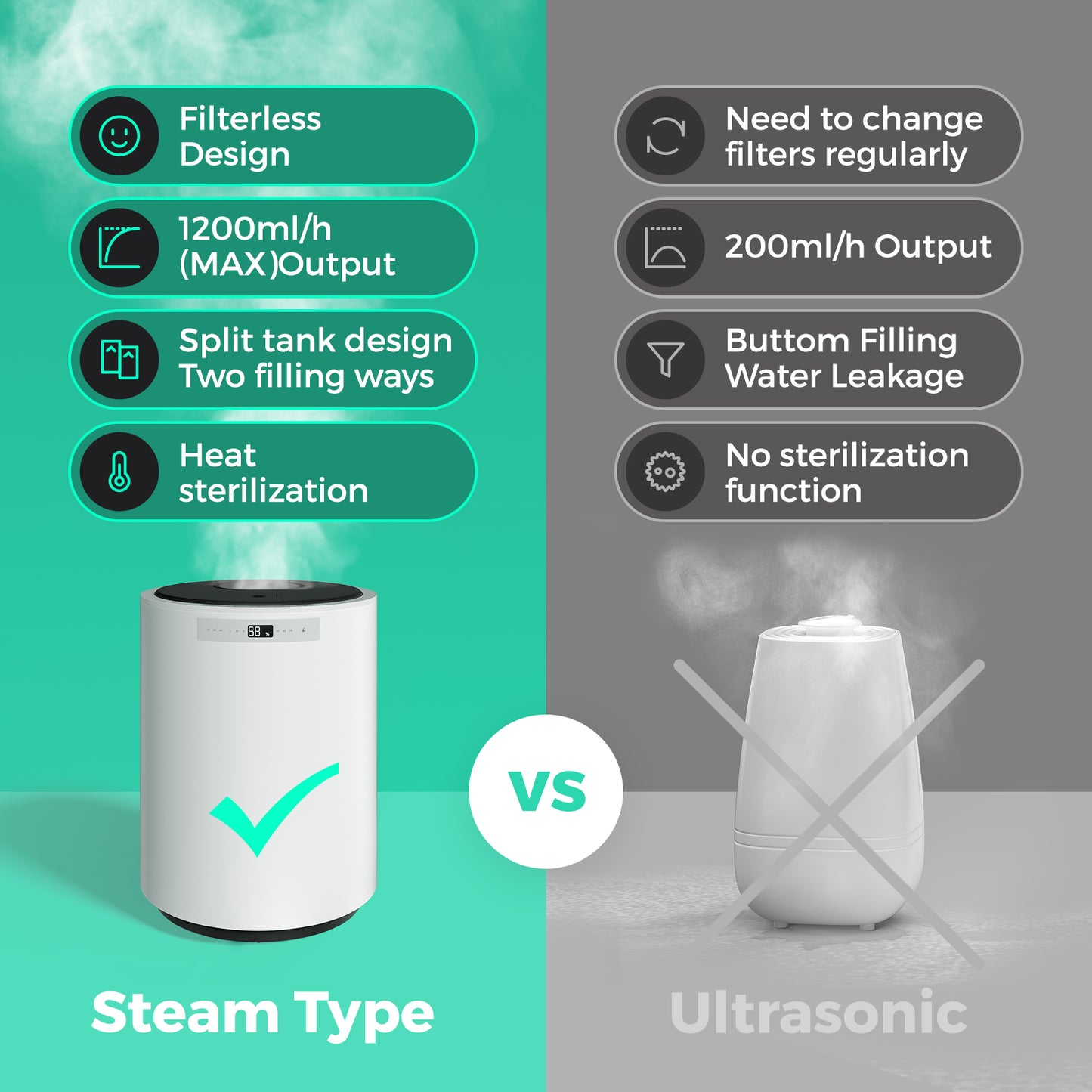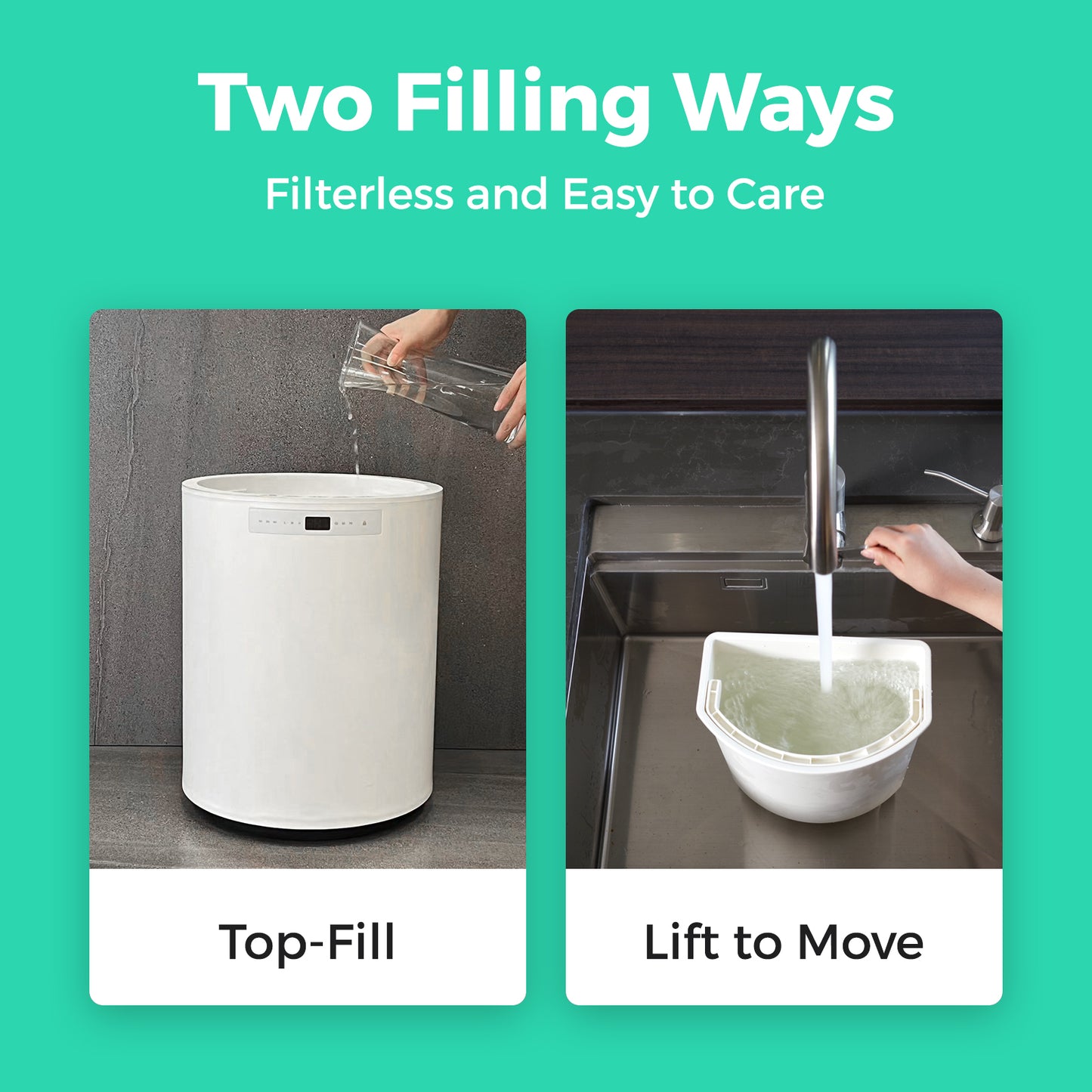 High Quality Humidifier
This humidifier is nice choice for my large house. The initial humidity in my living room (around 90m²) was 36%, and I found that the humidity had risen to 50% after an hour. It has two huge water tanks with handles which are easy to refill, generating enough steam without making much sounds. The control simple and easy to use, and as it is a big one I no longer need to worry my cat will knock it over while she's playing around it. There is no bad effect to our health like ultrasonic humidifier used to make, and much more easier to clean. My friend also recommend because she has baby in their home. Great stuff!
It's steam!!
I have been looking for a large capacity steam humidifier for several years since my old one gave up the ghost and the manufacturer ceased making them. For those who may be new to the world of humidifiers, I highly recommend steam vs. ultrasonic. Steam humidifiers work by boiling the water. Therefore, there should be no bacteria in the water reservoir to blow around your house unlike an ultrasonic humidifier. And, because it's steam, it's a gas which actually humidifies the air vs. the ultrasonic which theoretically smashes the water droplets small enough so that they absorb in the air. I have yet to find one that actually works as described and end up instead with a wet floor or table and the air still dry. And, a steam humidifier doesn't spread white dust from mineral deposits all over your home and into your household electronics. Now, the downside of steam humidifiers is that they're hot. That's how you get steam. Since most people use humidifiers in the winter, this is usually ok as you can just turn down the heat to compensate. The other downside is that any mineral deposits from the water attach to the heating element and can be difficult to clean. So, weekly or more frequent cleaning is important depending on the hardness of the water. I have very hard water and cleaning is not all that difficult with a little citric acid soak. But this large capacity humidifier humidifies my entire 1650 sq. ft. two-story house quite well on the low setting and filling the reservoir 2x/day. So, it lasts all day while at work and all night while sleeping. I always put a waterproof pad under my humidifiers just in the rare case of a leak so as to prevent any damage to what's underneath. However, I have used this humidifier for 3 months without incident and without any damage or problem with the lid that others have mentioned. I found it to be well made and attractive as household appliances go. So glad to have found this humidifier.
Quiet, efficient and easy to clean
"Product is very easy to install, the design of two water buckets makes it much easier to refill and carry. I used to have problem with other smaller humidifiers which I had to flip over the water tank and water would drip around the humidifier, but this item doesn't have such problem. There's no water dripping when the buckets were removed from the machine.
In terms of cleaning, the filters are easy to remove and be cleaned with a towel. Took the parts out when I first got it, wiped them and it's been on since then.
As for the features, it has a timer, mist level, humidity level and childlock. Tried setting the mist level to medium and a full tank of water could last for about 6-8 hours; setting it to low could last for almost twice as long. I usually refill it once in the morning and once before I go to bed, with low level mist setting, there are still around 50% of water left every time I refill.
One thing I love the most about this product is that it's super quiet! When I first got it and turned it on, although I saw numbers in the LED display, I still put my hand over the top to feel if there's anything coming out because it was so quiet. I've used and thrown away cheap $20~40 humidifiers over the years but this one really worth the money."
Great Humidifier! REAL STEAM instead of just mist and holds 10 liters. Works great. Love it!
This humidifier works extremely well. I love it.
In my 2000 square foot house's main floor, it has raised my winter humidity from around 28-30% to 48-50%, with my air system's fan running on low, 24/7 (which I already had set that way, for an ultraviolet in-duct air purifier). So, it's now exactly what I wanted it to be. In the room where the humidifier is located, the humidity measures up to about 60%, which is also fine.
I have had the humidifier set for maximum output for several days, ever since getting it (I just turn it on and press the humidity button once, to set it at 70%.). On that maximum setting, it seems to run for at least 10 hours before I need to refill the 10-liters of water (5 liters per tank). The two water tanks are very easy to lift out, by their well-designed and sturdy handles, and the legs on each tank make it very convenient and easy to refill them in my kitchen sink, since they stand up by themselves.
So far, I have had the humidifier sitting at the end of the house that is farthest away from the single return-air intake and air filter for the house's air system. I have it sitting on a vinyl floor, about one foot away from a wall and a door frame, but no moisture has ever been detected on the wall, woodwork, ceiling, or floor, anywhere near the unit. It shoots out a fairly strong-looking column of steam, more or less straight up, out of the top of the unit (if the lighting is just right to be able to see it).
The unit is quiet; quiet-enough for me at least. It makes a soft gurgling sound as it boils the water. It also emits a whistling sound, at least sometimes, which doesn't bother me but might bother someone if they were just sitting quietly in the same room with it, with no other background sounds. I haven't tried using it in my bedroom, yet, to find out if the sounds would bother me, there.
I love this humidifier, a lot, especially for its effectiveness and ease of use. And I really love the fact that it boils the water and produces actual steam, instead of just mist. The non-steam ('mist' only) humidifiers have always coated everything with fine dust, when I have tried them. And they also put everything that is in the water into the air that you breathe, which would include not just the minerals but also all of the contaminants, such as any fluoride, chlorine, and insecticides (we have "farm run-off" chemicals in our water, for example), and any other chemicals, and any heavy metals, etc., that were in the water. Real steam is the only type of humidifier that I would ever consider.
Free Shipping

Pair text with an image to focus on your chosen product, collection, or blog post. Add details on availability, style, or even provide a review.

Hassle-Free Exchanges

Pair text with an image to focus on your chosen product, collection, or blog post. Add details on availability, style, or even provide a review.